Birkenstock Arizona


* example colour combinations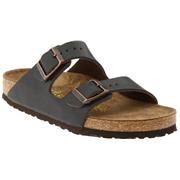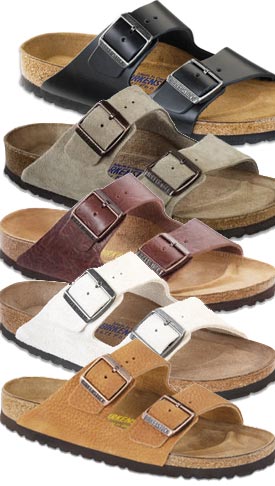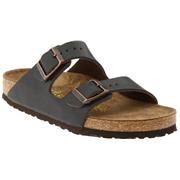 Be the first to Review

Classic dual strap slide sandal for men and women
Choice of Suede, Leather or synthetic uppers
Adjustable strap design with branded pin buckles
Supportive "anatomically correct" cork/latex footbed
Built in arch support
Shock absorbing EVA outsole for a flexible finish
Birkenstock Arizona

Select Colour
92

Colours Available
from £50.98

Animal Fascination - Grey

from £67.09

Animal Fascination - OffWhite

from £59.99

Anthracite

from £66.95

Antique Brown

from £71.59

Aqua

from £59.95

Basalt

from £44.91

Beige

from £73.38

Big Buckle - Black

from £66.95

Big Buckle - Brown

from £92.60

Big Buckle - Cognac

from £106.25

Big Buckle - Pink

from £40.98

Black

from £57.20

Black - Magic Snake

from £49.13

Black - Metallic Stones

from £55.54

Black - Shiny Snake

from £44.06

Black Patent

from £53.01

Black/Red

from £33.93

Blanc/Duo

from £57.48

Bordeaux Pyramid

from £28.49

Browns

from £34.90

Dark Blue

from £41.44

Dark Brown

from £55.95

Dark Soil/Green

from £71.99

Desert Soil Gray

from £55.54

Dress Blue/Red Sole

from £34.90

EVA - Beetroot

from £26.94

EVA - Black

from £29.67

EVA - Blue

from £24.18

EVA - Green

from £24.18

EVA - Khaki

from £30.00

EVA - Metallic Anthracite

from £34.35

EVA - Navy

from £25.00

EVA - White

from £87.45

Fascination Mud

from £78.90

Flower Crush Taupe

from £48.30

Gold

from £65.58

Graceful Gemm Red

from £55.54

Graceful Licorice

from £34.90

Graceful Orchid

from £54.64

Graceful Pearl White

from £55.54

Graceful Toffee

from £40.41

Green

from £27.99

Grey

from £59.04

Habana

from £62.44

Iron Oiled/Blue Sole

from £45.56

Lilac

from £44.04

Magic Galaxy White

from £59.90

Metallic Anthracite

from £28.49

Metallic Copper

from £52.64

Metallic Gold

from £27.95

Metallic Silver

from £59.24

Metallic Violet

from £75.00

Mink

from £44.91

Mocca

from £62.96

Myda Espresso

from £158.74

Myda Night

from £62.92

Natural Leather

from £31.99

Neon Pink Lack

from £53.12

Olive

from £33.93

Plateau - White

from £75.93

Platform - Black

from £64.63

Platform - Patent White

from £64.99

Premium - Black

from £34.90

Purple

from £35.28

Rose

from £50.19

Sand

from £59.81

SFB - Blue

from £58.83

SFB - Forest Green

from £46.13

SFB - Gunmetal

from £62.52

SFB - Metallic Silver

from £79.99

SFB - Mink

from £62.84

SFB - Ocre

from £68.41

SFB - Rose

from £59.95

SFB - Taupe

from £70.00

SFB - Vanilla

from £48.44

Shiny Snake Cream

from £35.69

Soft Yellow

from £76.51

Spectral Platin

from £34.90

Steer Curry/Orange

from £44.90

Stone

from £40.25

Studded - Silver

from £40.25

Studded Silver

from £60.00

Tabacco

from £26.98

Tango Red

from £34.98

Taupe

from £54.61

Toffee

from £44.73

Turquoise

from £35.00

White

from £44.04

White - Magic Snake

from £44.21

White Patent

from £63.99

White/Blue Sole

from £67.98

Zinfandel Oiled
Birkenstock Arizona Review
The Birkenstock Arizona is a design classic. A slip on sandal that's so distinctive and one recognised as a style staple worldwide.
This iconic brand of sandal first became popular in the late 60's, when a company in the US chose to import a style of shoe from a traditional German manufacturer, Birkenstock, after their supportive design and health benefits were discovered during a European holiday. These shoes became a favourite among young people and children in the States, especially within the vibrant hippie culture. In 1973 the Arizona Birkenstocks sandal was introduced and more signature styles followed.
By the mid 90's this style of shoe was popular with high school teens and remained the sandal of choice with many men and women, but some found the style ugly. This brand became a fashion favourite in 2013 with the haute couture fashion house Celine styling these sandals on their catwalk. Models including Alexa Chung and actors including Leonardo Di Caprio have also been 'papped' in a pair of these distinctive slides, suddenly a footwear style that was previously seen as a fashion taboo is now a street-style staple.
What is it about the Birkenstock Arizona sandal that makes them so appealing? Firstly they are made from a wide range of fabrics that include rich leather, textured suede, oiled nubuck, lightweight EVA and the Vegan friendly Birko-Flor®. The range of colours available is just as impressive as the Birkenstock fit and while comfort is paramount we love how this brand also take note of trends, adding stylish finishes, contrasting soles and modern prints into the mix.
The design of the sandal is a simple one, with the chosen upper fabric supporting the sides of the feet before two wide straps flow over the top of each foot, complete with branded buckles for simple adjustment. These slide sandals allow freedom of movement upon the original cork/latex footbed, that's lined in soft suede. This classic insole also features pronounced arch support, a deep heel cup for a comfortable fit and a roomy toe box. It's designed to evenly distribute the weight of the body for total comfort and mould to your feet during wear. To complete the design is the lightweight EVA outsole, that absorbs shock for smoother steps.
Once you decide which colourway of Birkenstock Arizona slides you're going to choose, you'll never want to take these supportive sandals off!