Gabor Lanzarote


* example colour combinations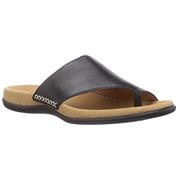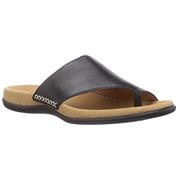 Write your own review

Read the Reviews
Comfortable toe loop sandal with modern and fun colourways
Choice of leather nubuck or patent uppers
Simple toe loop design and angled upper
Leather lined
Cute cross stitch embellishment
Contoured footbed with branding
'Best fitting' technology for a superb fit
Slip resistant, patterned rubber outsole
Gabor Lanzarote

Select Colour
23

Colours Available
from £58.05

Black Leather

from £65.00

Camel

from £71.99

Cognac

from £69.99

Fuchsia

from £60.93

Fumo

from £60.93

Grey

from £65.00

Klee Suede

from £69.99

Leopard

from £62.10

Linen

from £69.05

Metallic Grey

from £69.99

Muschel Caruso

from £69.99

Night Blue

from £65.00

Orange

from £65.00

Patent Black Leather

from £65.00

Peanut Brown

from £69.99

Pink Nubuck

from £74.99

Red Flower

from £65.00

Schilf Missisippi

from £66.00

Smoke Nubuck

from £69.99

Stone Flower Stamp

from £69.99

Sun Yellow

from £65.00

White Leather

from £65.00

Yellow
Gabor Lanzarote Review
The Gabor Lanzarote is a stunningly simple toe loop sandal that boasts quality craftsmanship, a comfortable design and fashionable colourways destined to uplift your summer wardrobe.
The Lanzarote sandal's classy design consists of a rich covering of smooth leather, which is angled across the top of the foot creating the right mix of style and support. The rich leather upper is neatly secured to the contoured footbed with decorative cross stitch, in contrast tones along each side whilst this sandal boasts Gabor's 'best fitting' technology to ensure comfort with each cushioned step.
You'll love the host of luxurious looking colourways; the Red, White and Navy shades are daytime classics but I like the Cactus Green and pink toned Cyclamen to brighten things up. On warm summer evenings at harbour side bars we think fashionable metallics are a must, so why not choose the Antique Silver shade or opt for a shinier effect and show off the versatile Black or White patent leather colourways. To finish, each stylish shoe has a slim rubber outsole with patterned tread that will keep you stable. The Gabor Lanzarote is an apt name for such a stylish sandal, and I for one would be happy to pack these cute sandals when I head off to warm and sunny shores this season.
Gabor Lanzarote

CUSTOMER REVIEWS

Overall Score:

2

reviews
out of 5 based on
Write your own Review

out of 5 stars
Gabor Lanzarote
Reviewer:

Patricia Todd
Location:

Preston Lancs
Sep 13, 2016
Wond air ful
These sandals are the best I've ever bought. I bought them in a caramel colour leather 3 years ago and I'm still wearing them. They have been on so many trips and still look good. Investing in an antique silver pair for back up. Pricey but so worth it.

out of 5 stars
Gabor Lanzarote
Reviewer:

doreen Hamilton
Location:

uk
Jun 26, 2014
F-A-B-U-L-O-U-S
These sandals are truly like walking on air --especially if you have any foot problems. I have just bought 2 pairs and they are worth every penny. I am searching everywhere for the black patent 41.