* example colour combinations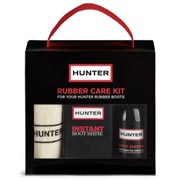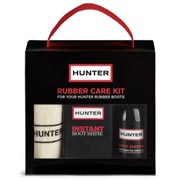 Write your own review

Read the Reviews
Rubber care kit from Hunter, includes;
Cleaning Cloth with Hunter branding
Instant Boot Shine, a silicone impregnated sponge for an instant buffed finish
125ml Boot Buffer to restore your rubber boot's natural finish
Hunter Care Kit
Our Description
The Hunter Rubber Care Kit is the ideal collection of products to keep your favourite pair of Hunter Wellington Boots looking shiny and clean.
Encased in a stylish carry case, the Hunter Rubber Boot Care Kit includes a neutral cotton cloth simply embellished with the signature printed logo, there's a instant boot shine sponge for quick shiny results and why not spritz on some boot buffer spray to keep your boots looking as good as new. When buying a new pair of Hunter boots why not add the Hunter Rubber Care Kit to your order for great results.
Hunter Care Kit

CUSTOMER REVIEWS

Overall Score:

1

reviews
out of 5 based on
Write your own Review

out of 5 stars
Hunter Care Kit
Reviewer:

TROND EIE
Location:

NORWAY
Nov 24, 2011
HUNTER RUBBER CARE KIT
COST TO MUCH.